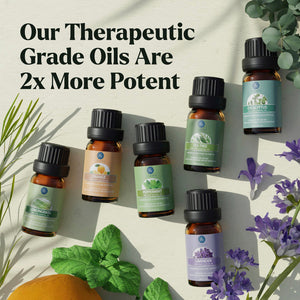 Lavender Essential Oil - .33 fl oz
PLANT-POWERED FORMULAS FROM AROUND THE WORLD: Regular brands use ingredients grown with GMOs, while we only source ORGANIC ingredients from farms with a commitment to regenerative, earth-kind practices. Our team travels the globe to bring you the PUREST eucalyptus essential oil from Australia, lavender from France, and peppermint from India.

2X MORE POTENT: Most essential oils go rancid quickly once exposed to heat, light and oxygen. They'll begin to smell strange and lose potency. Our FrostProtect bottle keeps oil STABLE for 24+ months, so you can enjoy the ANTI-INFLAMMATORY and ANTIOXIDANT benefits of your oils for longer.

STEAM-DISTILLED FOR 4X LONGER-LASTING AROMA: Regular oils are extracted using nasty solvents like hexane. We steam distill our potent oils to PRESERVE THEIR FRAGRANCE FOR 4X LONGER. This means they're IDEAL FOR USE IN HUMIDIFIERS & DIFFUSERS. Our unique distillation process takes place in small batches in our California apothecary.

100% PURE: Most essential oils on the market include alcohol or cheap, synthetic fillers—companies dilute their purity to cut costs. We never dilute our STEAM-DISTILLED oils, which preserves their UPLIFTING and INVIGORATING properties. Escape the everyday—create a new self-care ritual with LagunaMoon!