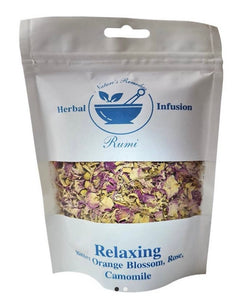 Relaxing Tea For Insomnia & Depression - 20 Tea Bags
20 SINGLE SERVE TEA BAGS
Relaxing tea is a natural herbal infusion tea, especially
selected and mixed to give you, calmness, relaxation
and ease of sleep. It can also help to reduce your daily stress and anxiety levels. Relaxing tea with its ancient remedy formula is a great relief for depression and it has impressive record for calming effects. Relaxing natural infusion tea also nourishes the heart and relaxes the mind and body. Relaxing infusion tea is your best solution for leading a free stress life.

Ingredients
Relaxing is a supplement bed time tea with an aromatic
taste of bitter orange blossoms, mixed with calming
chamomile and topped up with fragrant rose petals.